As the weather turns warmer, you may be looking for ways to occupy your kids outdoors. One of the best things you can have in your yard is a kiddie pool. These pools are affordable and they can provide hours of fun for younger children. They come in many different sizes and styles so you can find the best one for your kids based on the size of your outdoor space and the age of your children.
When shopping for a kiddie pool it's important to think about how much space you have for use of the pool and for storage when it's not pool season. Many kiddie pools can be folded away for storage while the hard plastic options take up much more space when not in use. The following is a list of the 10 best kiddie pools based on reviews by consumer report.
[amazon box="B0009PU0UQ,B004M05IK6,B000VSAEYI,B0736BR6QH,B000I9RZOW,B083PRCZDM,B07V3P5DJD,B005QIYSJ0,B00HIWWKPQ,B000KI111Y" /]
10.

Intex Swimming Pool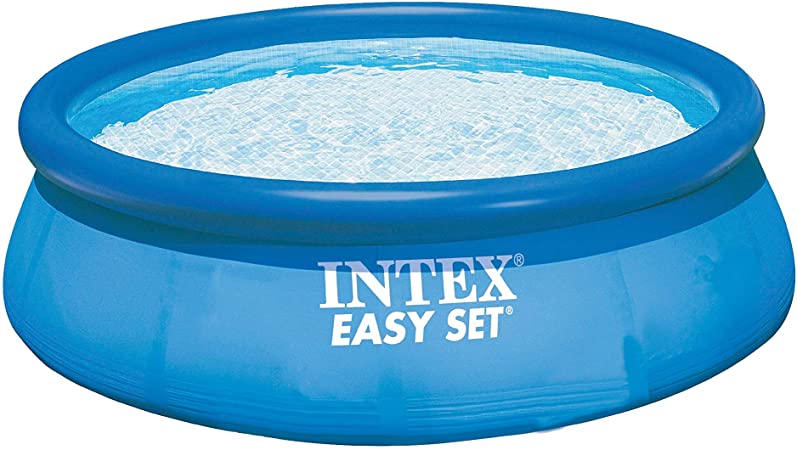 The Intex Swimming Pool is ideal for older kids for splashing around and cooling off. This pool measures 8′ by 30″ and can hold 639 gallons of water. It's easy to set up and can be ready to fill in as little as 10 minutes.
This pool from Intex has an inflatable upper ring to hold up the pool. It features a heavy-duty liner that's designed to last through many seasons of use. The pool can be easily drained and folded away for storage.
9.

Step2 Play & Shade Pool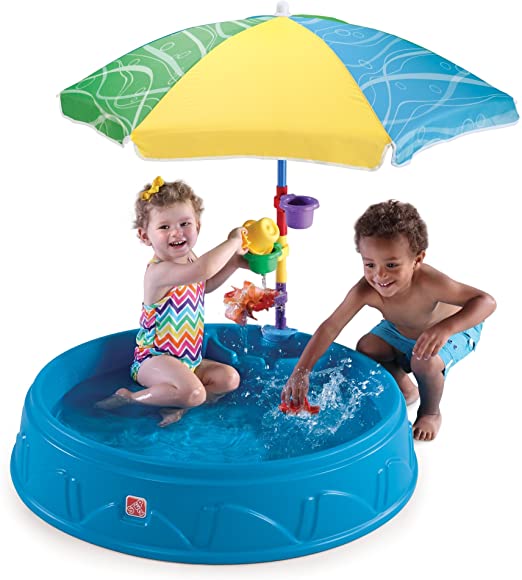 The Step2 Play and Shade pool is perfect for toddlers and preschoolers. This pool includes an umbrella to protect your kids from UV-rays. It also has 3 funnel cups and a spinning water wheel for extra fun.
This pool from Step2 is made from durable plastic with 2 molded seats inside. It has designs at the bottom of the pool to help your kids walk safely. This pool requires minimal assembly before use.
8.

Intex Ocean Inflatable Play Center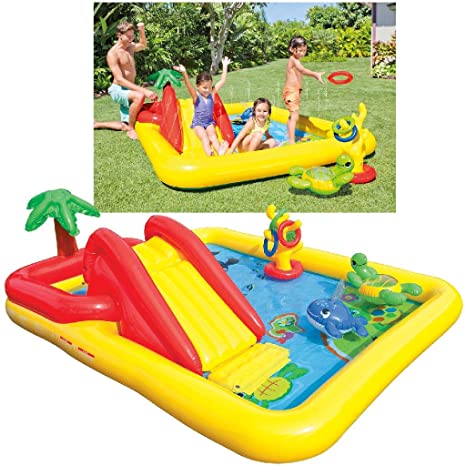 The Intex Ocean inflatable play center is like having 2 pools in one. This pool can be used by several children at once and has a small area which is ideal for younger toddlers.
This inflatable pool from Intex includes a slide and inflatable palm tree. It has several toys and games included. Each pool has a separate drain plug and you have the option to control water flow through a valve.
7.

Intex Candy Zone Inflatable Play Center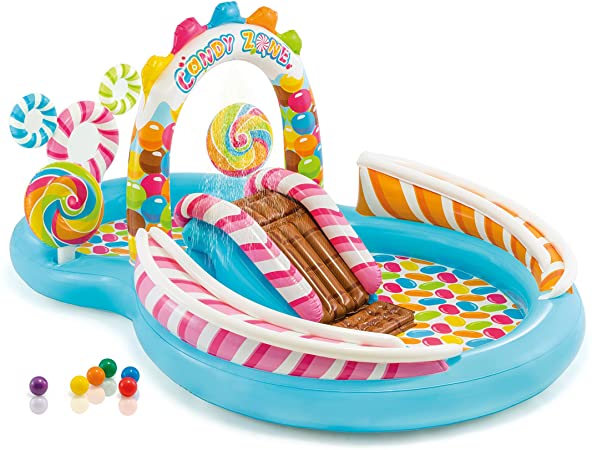 The Intex Candy Zone inflatable play center is designed for children ages 2 and up. This inflatable play center has a waterslide, 2 inflatable lollipops, and rails for rolling the 6 plastic balls.
This water playset from Intex has a landing mat under the slide for added protection. You can attach your water hose to the sprayer for cooling off.
6.

Intex Sunset Glow Baby Pool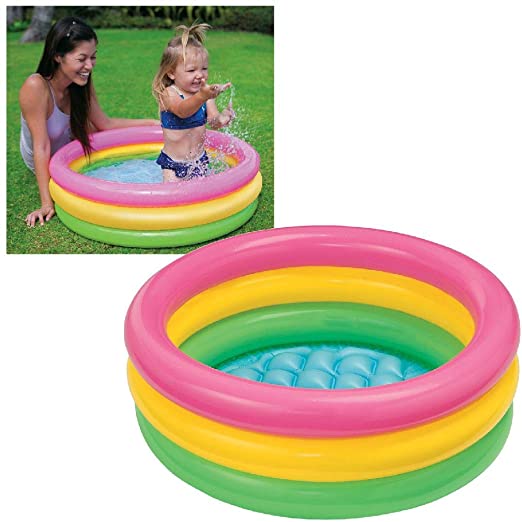 The Intex Sunset Glow Baby pool is a good option for kids from 1 to 3 years old. This compact pool measures 34″ by 10″ which makes it ideal for yards and patios with limited space.
This inflatable pool from Intex can hold 18 gallons of water. It inflates quickly for use and can be easily deflated and flattened for storage. This pool also includes a repair patch in case it gets a hole or rip.
5.

Homech Family Inflatable Swimming Pool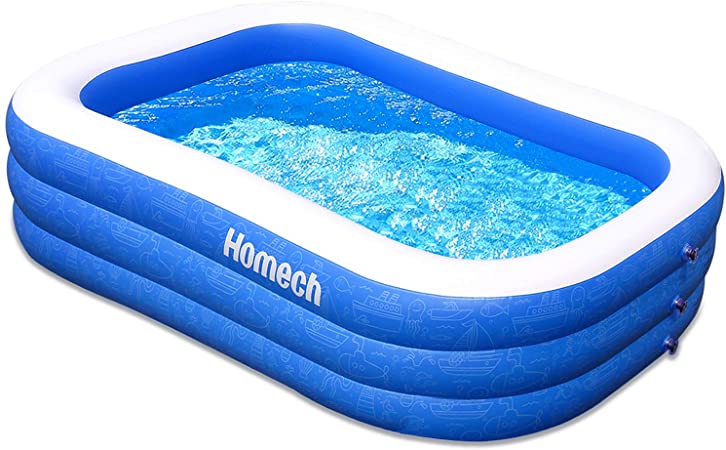 The Homech family inflatable swimming pool is designed to be used by children who are ages 3 and older. This pool is easy to set up and made of durable materials.
This pool from Homech can be used by adults and children. It's constructed of a material that's 50% thicker than similarly designed pools. It can be inflated in around 3- minutes with an electric pump.
4.

Intex Shootin' Hoops Swim Center Family Pool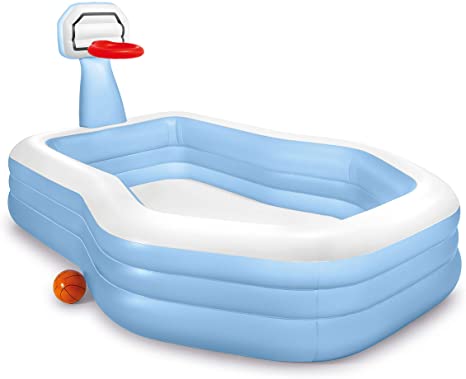 The Intex Shootin' Hoops family pool is great for kids ages 3 and up. This pool includes a basketball hoop and ball at one end for extra fun. The drain plug makes it easy to drain and clean the pool.
This inflatable pool from Intex is large enough for the family to use together. It has a maximum water capacity of 180 gallons and a maximum water depth of 12 5/8″ which is marked on the side of the pool.
3.

Intex Sun Shade Inflatable Pool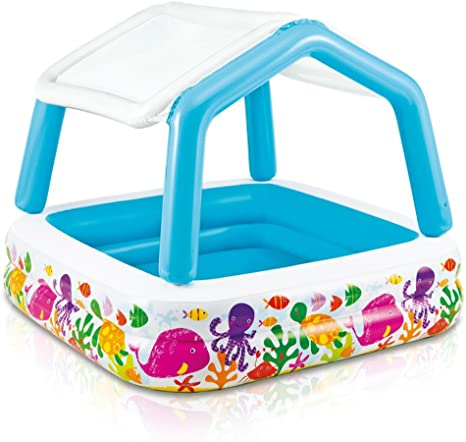 The Intex Sun Shade inflatable pool is made for kids ages 2 and up. This pool includes a shade on top to keep your kids out of direct sun.
This pool from Intex has a maximum water capacity of 74 gallons. The pool is made from 10-gauge vinyl for durability. It also includes a repair patch.
2.

Intex Dinoland Inflatable Play Center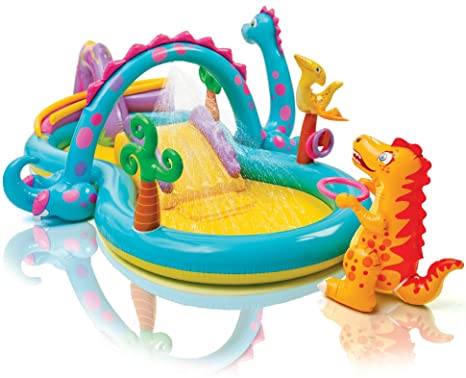 The Intex Dinoland inflatable play center is vibrantly colored with dinosaur toys and a ring toss game. This pool has a dino arch water sprayer over top of the slide.
This water play center is ideal for kids ages 2 and up. The landed pad under the slide has extra padding to keep the little ones safe. This pool can hold up to 74 gallons of water.
1.

Intex Rainbow Ring Inflatable Play Center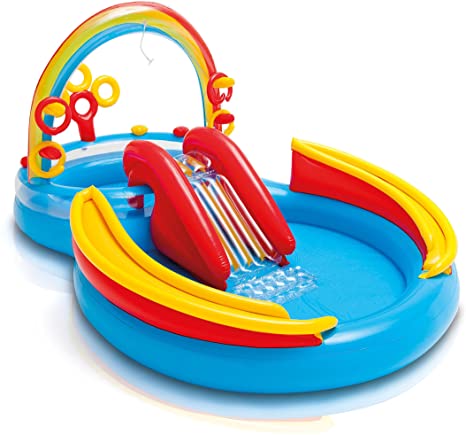 This inflatable pool from Intex comes with a fun ring toss game, a ball roller area, ball toss, and 6 plastic balls. This play center has 2 pools and a maximum water capacity of 77 gallons.
The Intex Rainbow Ring play center has a water sprayer that you can attach to your garden hose for added fun. The landing mat under the slide adds extra padding for safety.
Kiddie pools are a fun and cheap way to get your kids outdoors during warm weather. These pools can be used for children from toddler age through school-age depending on the size and depth of the pool. Pool safety is an important consideration when choosing a kiddie pool and constant supervision is a must with kids of all ages. If you have especially young children you may want to choose a kiddie pool that offers some shelter from the sun for added safety.
Some kiddie pools may include extra features like slides, shelters, or water features. There are also plenty of basic pools just for splashing around. Be sure to read up on the installation process of these pools if you decide to purchase one that requires setup or the use of chemicals for water maintenance. It's helpful to read online reviews from other consumers when choosing the best pool based on price, quality, and features.