Anyone who likes deli sandwiches made with deli meat likely understands the need for a good meat slicer. If you prefer making your sandwiches at home, you may be looking for a quality meat slicer that's similar to the one used in your favorite deli, but on a smaller scale for use at home. There are several meat slicers available that are more affordable than commercial-style meat slicers and more compact, but still functional for home use.
When shopping for a meat slicer it's important to find one that has a sharp blade and is adjustable so you can slice meats in your preferred thickness. Most meat slicers have a simple way of adjusting the blade for different thicknesses of meat. Knowing the price of replacement blades is also helpful in decision making as these blades can dull over time. The following is a list of the 10 best meat slicers based on reviews by consumer guide.
[amazon box="B078X5JWBD,B07D7TFTVN,B01AQH636Q,B078YYDF8N,B0000ALQ8D,B00006IV0R,B0090JINY2,B0000Z6JJG,B07S5R3HHV,B07CT5TVTX" /]
10.

Chef'sChoice 609A000 Electric Meat Slicer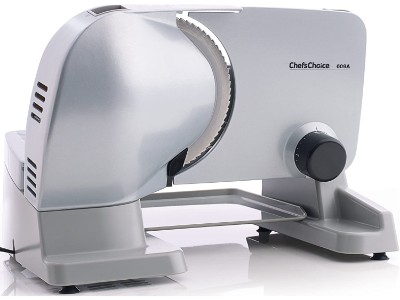 The Chef'sChoice electric meat slicer has a durable stainless steel blade. The blade is adjustable and can slice meat deli thin or up to 3/4″ thickness. These parts can be removed for easy cleanup.
This meat slicer from Chef'sChoice has a tilted large-capacity food carriage to make quick work of large cuts of meat. It has a gear-driven high-torque motor and is well-made to last through many years of use.
9.

Elite Platinum EMT-625B Ultimate Precision Electric Deli Food Meat Slicer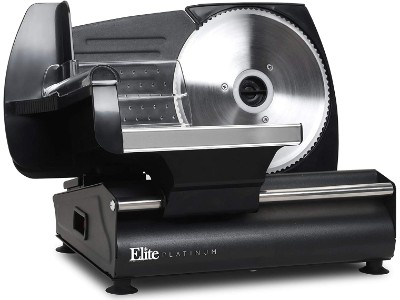 The Elite Platinum ultimate precision meat slicer has a professional design for heavy-duty use. This slicer allows you to adjust the width to work for different types of meats. It can also be used on vegetables and hard cheeses.
This slicer has a simple on/off switch and a dial to adjust the thickness from razor thin to 1/2″. The bottom of the slicer has feet to keep it in place during use.
8.

BESWOOD 10″ Premium Chromium-plated Carbon Steel Blade Electric Deli Meat Cheese Food Slicer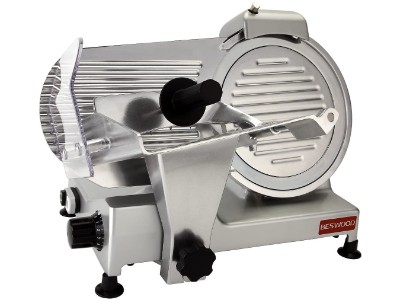 The BESWOOD 10″ premium electric slicer can be used for meat, hard cheeses, and other foods. This commercial-grade slicer can also work for those who slice a lot of their own food at home and need a heavy-duty machine.
This meat slicer has a chromium-plated carbon steel blade that's protected against corrosion. The double illuminated on/off switch makes it easy to use and protects against power shocks.
7.

Chef'sChoice 615A000 Tilted Food Carriage for Fast and Efficient Slicing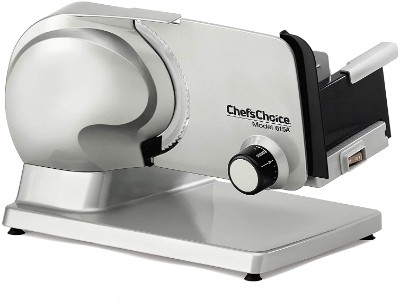 The Chef'sChoice meat slicer has a removable blade, food pusher, food carriage, and deflector for easy cleaning. This unit allows you to adjust the thickness of the food slices.
This meat slicer from Chef'sChoice has a 7″ stainless steel blade that can cut foods super thin or up to 3/4″ thick. The high torque motor makes this machine quick and easy to use, even with large cuts of meat.
6.

Cuisinart Waring FS150 Food Slicer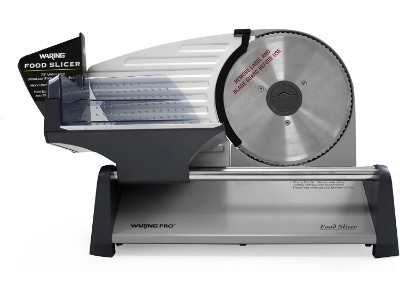 The Cuisinart Kitchen Pro food slicer has a 7.5″ undulated stainless steel cutting blade. The stainless steel carriage on this machine is removable for easy cleanup.
This meat slicer from Cuisinart has a slice control knob that can adjust the thickness from paper-thin to 1/2″ thick. The housing on this slicer is made of premium-coated steel and is designed to last.
5.

Presto 02910 Salad Shooter Electric Slicer/Shredder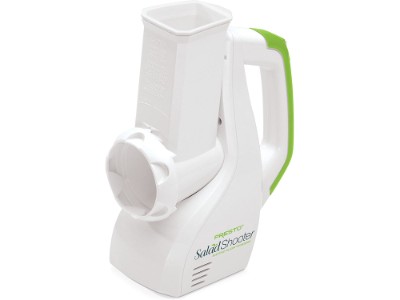 The Presto Salad Shooter is a compact appliance that works well for small pieces of meat, vegetables, cheese, and other foods. This slicer has a handheld design that makes it easy to use.
This slicer from Presto includes interchangeable slicer and shredder cones. It shoots the sliced and shredded food directly onto your plate, a bowl, or other cooking surfaces for convenience.
4.

KitchenAid KC312OHOBA Adjustable Hand-Held V-Blade Mandoline Slicer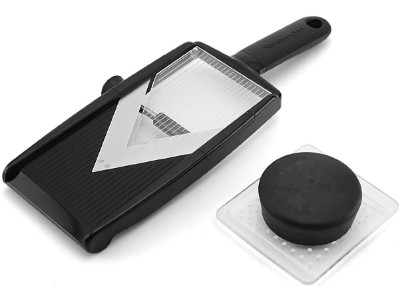 The KitchenAid adjustable hand-held v-blade mandoline slicer is designed for small slicing jobs in the kitchen. It can be used for meat, cheese, vegetables, and more.
This slicer from KitchenAid has a super sharp blade. The table under the blade is adjustable to 4 different thicknesses so you can use it for many types of meats and other foods.
3.

Presto Salad Shooter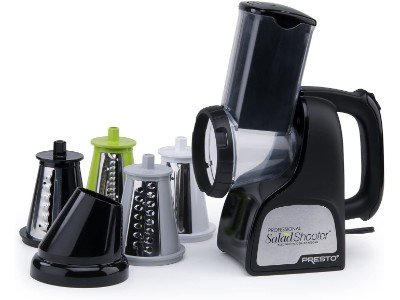 The Presto Salad Shooter in black comes with several attachments for slicing meats, cheeses, and vegetables, and into various sizes for use in salads, sandwiches, tacos, and more.
This slicer from Presto is affordable and easy to use. The base of the unit can be wiped clean and all the attachments are dishwasher-safe.
2.

Meat Slicer Electric Deli Food Slicer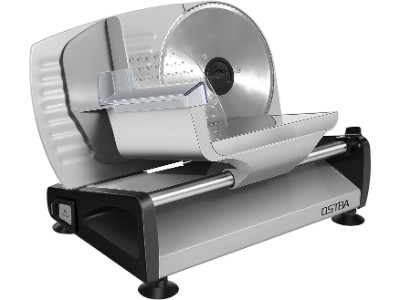 This electric deli slicer has a 7.5″ stainless steel blade that can be removed for cleaning. The other working parts are also removable so you can sanitize the machine after each use.
This meat slicer is designed with safety in mind. It has a safety lock that has to be used before the machine turns on. It also has feet on the bottom to keep it from slipping during use.
1.

Chefman Die-Cast Electric Deli/Food Slicer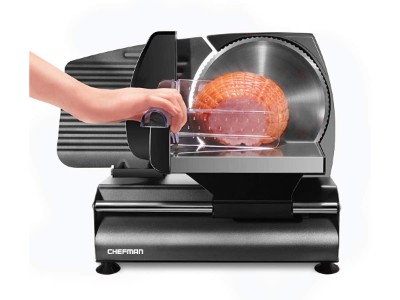 The Chefman Die-Cast electric deli/food slicer features non-slip feet to prevent it from moving during use. The 7.5″ blade is durable and can be removed for cleaning.
This meat slicer from Chefman has a heavy-duty design in a compact size. The thickness can be adjusted based on your personal preferences. The slicer has a safety guard to keep hands away from the blade during slicing.
Conclusion
When choosing among the different meat slicers available, it's important to read up on how the machines come apart for cleaning. It's essential to clean the blade and other parts that touch the meat after each use so you'll want something that comes apart and goes back together easily. Some may even have parts that are dishwasher safe. You should also consider the size of the meat slicer, especially if you have a smaller kitchen. Some can have a large footprint and need lots of space for use and storage.
A good meat slicer means you can have deli meat at home anytime you want it. This can save you money and provides you with peace of mind that your meat is fresh. These slicers are easy to use and most allow for adjustments based on meat thickness. It's helpful to read the online reviews when choosing which meat slicer to purchase so you get the most for your money.