If you enjoy traditional desserts and like making them at home, you may benefit from having specialty equipment in your home to make these desserts. Pizzelles, which are traditional Italian waffle-like cookies, are simple in taste but very popular. To make pizzelles you need a special type of pan or small appliance. Pizzelles makers are easy to use and relatively affordable, especially if you prefer to make your specialized desserts rather than buy them at a bakery.
When shopping for a pizzelle maker it's important to choose one based on the number of cookies you need to make at once. Some of these small appliances can only make 2 cookies at once while others can make more. It's also helpful to choose an option that has a nonstick surface so you can be sure that your cookies will come out perfect each time. The following is a list of the 10 best pizzelle makers based on reviews by consumer guide.
[amazon box="B000BQWNW6,B0000CFUZ9,B000K9SKA8,B000NRQ4BE,B00006WNSJ,B000NRQV12,B000I1QJ06,B000NKRWNA,B000BKCWMI,B002NVNB5K" /]
10.

Toastmaster TWB2PIZT Pizzelle & Cookie Maker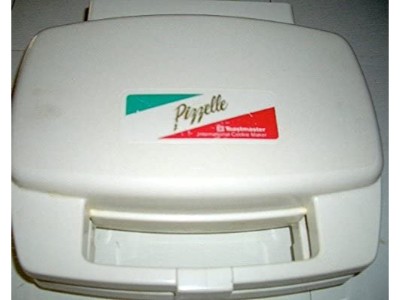 The Toastmaster pizzelle and cookie maker has a classic design that makes it easy to use. This small kitchen appliance is designed to make 2 pizzelles at once.
The plates on this pizzelle maker have 2 different designs. The nonstick surface helps your cookies come out perfect and beautiful with each use.
9.

VillaWare V5000 PRIMA Pizzelle Baker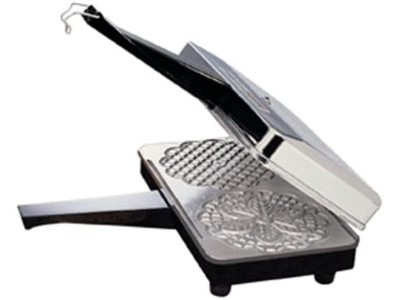 The VillaWare V5000 PRIMA pizzelle baker has a Fiori pattern so you can make traditional-style cookies. This machine has a Xylan coating to prevent the cookies from sticking so they come out perfectly each time.
This pizzelle maker from VillaWare has an automatic thermostat to bake your cookies to the right consistency with minimal effort. It also features a steam guard function and a ready light to let you know when your cookies are done.
8.

Cuisinart WM-PZ2FR Brushed Stainless Pizzelle Press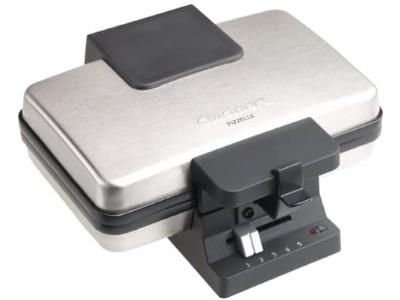 The Cuisinart pizzelle press has a stylish and durable brushed stainless steel finish on the outside. This makes it easy to wipe clean after each use. It has 5 settings so you can adjust the heat based on your preferences.
This pizzelle press from Cuisinart features a locking lid that helps the cookies brown evenly on all sides. It comes with a measuring spoon and a dowel so you can make cannoli.
7.

Palmer 3 Round Pizzelle Iron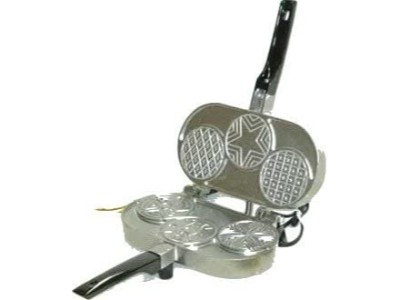 The Palmer pizzelle iron makes 3 cookies at once with each cookie measuring 3″ in diameter. This unit has a longer handle than most to help protect your hands from hot steam.
This pizzelle iron from Palmer has cast aluminum plates with traditional designs for making beautiful pizzelles. It includes a 5-year warranty from the manufacturer.
6.

VillaWare V3600-NS Prego Nonstick Pizzelle Baker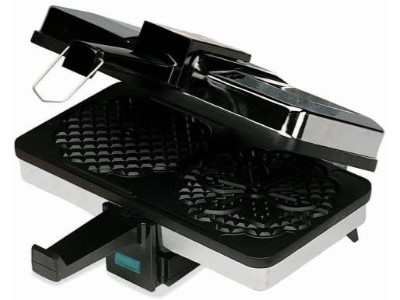 The VillaWare V3600-NS Prego pizzelle baker has a Xylan nonstick surface so your cookies release from the plates easily. This unit bakes two 5″ cookies at once every 30 seconds.
This pizzelle baker from VillaWare imprints the traditional Fiori pattern on each cookie. The steam guard protects your hands during use. This unit includes a recipe book to help get your started making these delicious cookies.
5.

Palmer 1000T Electric Pizzelle Iron-Non-Stick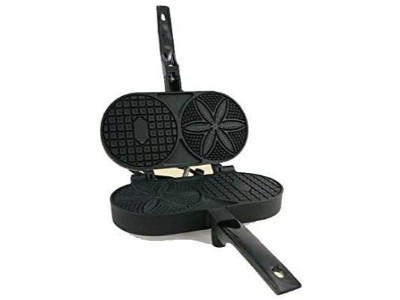 The Palmer 1000T electric pizzelle iron has a durable nonstick surface. This iron features a long handle to protect your hands from hot steam during the baking process.
This pizzelle iron from Palmer has a simple design that makes it easy to use. It bakes 2 pizzelles at once. The unit includes a 10-year warranty from the manufacturer.
4.

Pizzelle Maker
The CucinaPro pizzelle maker includes a simple recipe book for those who aren't familiar with baking these thin cookies. This machine is easy to use and has a nonstick surface for quick cleanup.
This pizzelle machine from CucinaPro features extra-thick baking plates for even heat distribution. This helps ensure that cookies are baked perfectly each time you use the machine.
3.

Palmer Pizzelle Maker Classic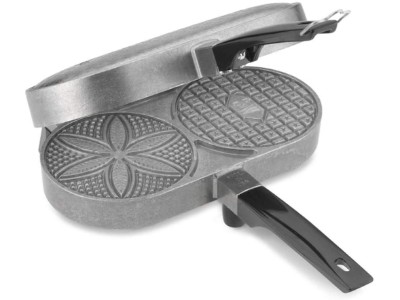 The Palmer Pizzelle Maker Classic makes crispy pizzelles in half the time required by hand irons. This unit is made in the USA and includes a 5-year warranty from the manufacturer.
This pizzelle maker from Palmer is made with durable cast aluminum plates for even heating. It makes two cookies at once with each cookie having a diameter just over 4″ around.
2.

Krumkake Baker By Cucina Pro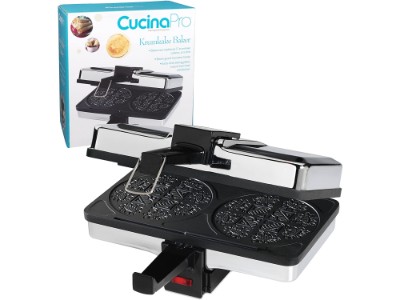 The Krumkake baker from Cucina Pro bakes very thin cookies that are similar in taste and texture to traditional Italian pizzelles. This machine has nonstick grids so that cookies can be removed easily each time.
This small kitchen appliance from Cucina Pro has 750 watts of baking power. It's designed to bake 2 cookies at once. It features a steam guard to protect your hands when lifting or lowering the lid.
1.

Chef'sChoice 834 PizzellePro Toscano Nonstick Pizzelle Maker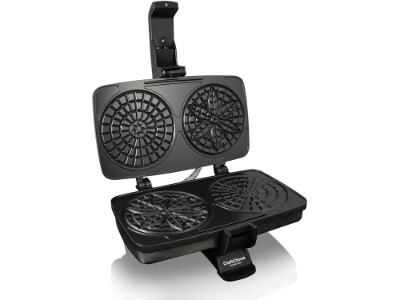 The Chef'sChoice 834 PizzellePro Toscano pizzelle maker has a nonstick baking surface. This unit has instant temperature recovery so you can make a large number of pizzelles in little time.
This pizzelle maker from Chef'sChoice has a locking latch that helps cookies bake evenly. It comes with a recipe book and also gives you the option to make traditional cannoli. It has 900 watts of baking power.
Conclusion
Having a pizzelle maker in your kitchen means you can bake tasty and unique Italian treats anytime you want. These cookies can be hard to find in a grocery store so making them at home may be your best option if you don't have a specialized bakery nearby. Pizzelle makers are very simple to use. Many may include a recipe book with specific instructions on making pizzelles which is ideal for those who don't have previous experience with these waffle-like cookies.
When shopping for a Pizzelle maker it's important to find one that's easy to clean. A nonstick surface can make the cleaning process much easier as it allows you to simply wipe the surface once the cookies are removed. It's helpful to read and compare online reviews when choosing which pizzelle maker to purchase. These reviews can help you choose a high-quality appliance that will help you recreate these tasty Italian cookies in your home.